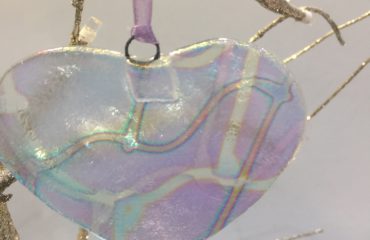 Dichroic glass heart hanger, reflects the light beautifully to show a rainbow of colours upon the glass.
Perfect gift for Mother's Day, Wedding gifts, Anniversary gifts and of course Valentine's day.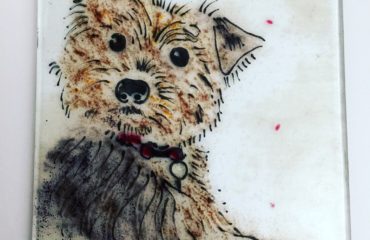 Pet Portrait in Fused Glass
Capture your beloved pet in a beautiful glass art work, framed to hang on the wall and remember a beloved moment in time.
Emma Kirkham Glass Bespoke & Handcrafted
Hello!
I am Emma Kirkham (officially Emma-Louise Miriam Kirkham but that's an awfully long domain name)! I have been addicted to glass for over 20 years now. My first encounter with molten glass was at The University of Sunderland in 1993 where I was studying Three Dimensional Design, Glass with Ceramics.
I was hooked!
Beautifully designed earrings & comfortable to wear, will certainly be getting more!
Beautiful what more can one say?
love everything you do Emma xx
"Just wanted to thank you for my beautiful glass pendant necklace.
I love it! ️
Had lots of compliments since wearing it." – Tamsin
"I am delighted with my necklace- so many lovely compliments when I'm wearing it. I love things that are different and will always support local business.
If I drop enough hints I think the heart necklace may be in my collection at Christmas!"
"I have bought a ring from Emma and it is just beautiful. The workmanship is second-to-none and the glass shimmers and reflects the light, making it very eye-catching. I always feel special when I wear it!"