The ultimate studio….
Uncategorized
A dream studio…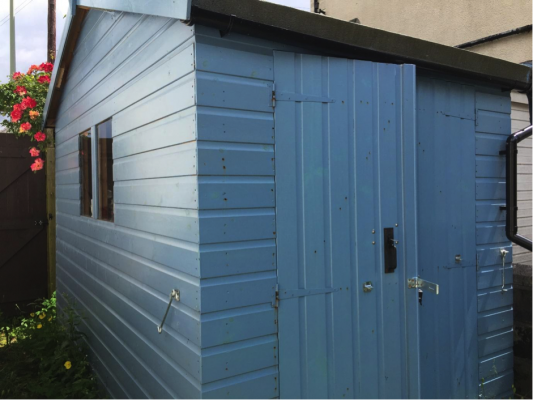 As some of you may know I work from my beautiful blue shed. She has everything I need to create my beautiful pieces of glass.
It has all the basics I need.
Good lighting
A spacious workbench for my cutting tools, saw and polisher
Plenty of storage space for all my tools and glass
and most importantly pots and pots of room for my colours( you never know when that tiny scrap of glass might come in handy ).
But how could I improve on this delight…
Well appart from being bigger, I honestly don't think I could. She is all I ever dreamed of when I came back to the UK in 2013. A place to create glass…a place of quiet and creativity (unless I am playing Muse that is ;))
There is a lock on the inside so I can keep out major distractions (kids !) when necessary, it's well lit and has numerous storage shelves for all my important items and it's warm in the winter (well there could always be better heating….but that just means more jumpers). But most of all it's situated in a beautiful garden, when I take a break I just have to step outside and I feel all calm and relaxed again and the dog is always happy to help me if it means more time in the garden!
I am so lucky to have this perfect space, and eternally grateful to my beautiful parents allowing me to set up in their garden xx
If you have a studio (or are dreaming of one) why not share what your ideal creative space is (or would be). I love connecting with other creatives and bouncing ideas off one another.
Please do get in touch 🙂