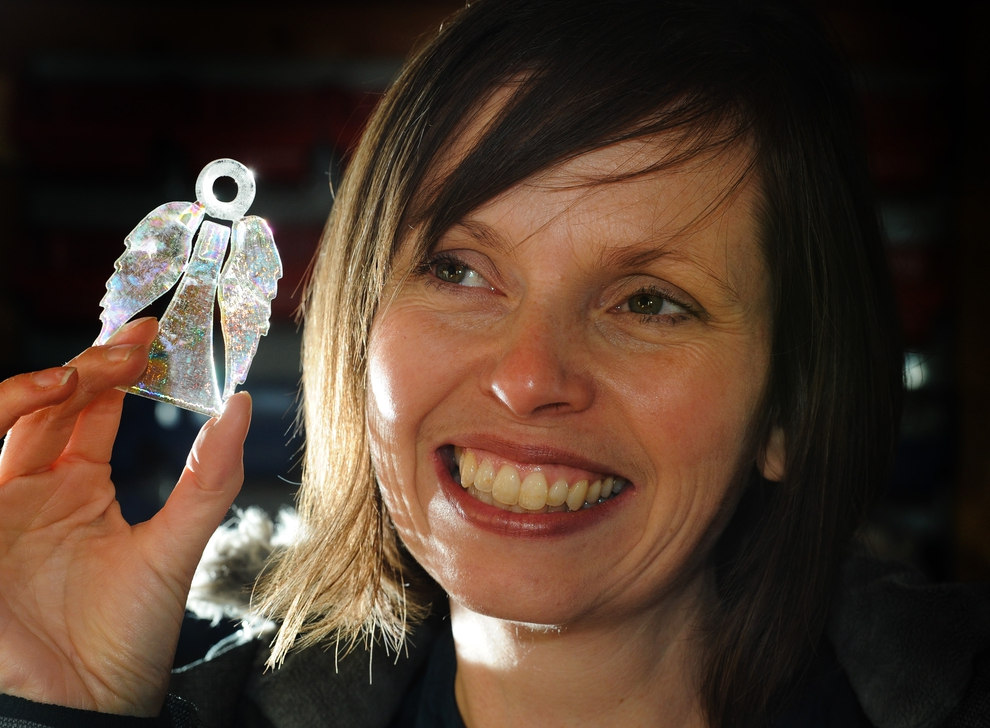 Creating heirlooms in glass and how you could be doing this too.
Tales from the She Shed
Christmas is definitely upon us with only 28 days to go.
It's getting mega excting here in the She shed, and glass is literally everywhere.
I think this is definitely my most favourite time of the year. Whilst a lot of people don't like thinking of Christmas until December, I really can't leave it until then, not only from a business point of view, (I start thinking Christmas in July) but also having two lovely young men in the house, they start talking Christmas really early on. What's on their list, what can they really have, how much they really neeeeeeeed  everything on that list and it can not really wait…..never ending writing and re-writing on Christmas lists is definitely so much fun at that age. Although I do miss that they don't do Christmassy things at school anymore, as at 9 and 11 they are supposedly too old.
A couple of years ago I made a pair of angels, one for Jake and one for Alek. Now when I created them I had visions of them being broken with in the first year, as in our house we run everywhere and not walk (well they do), however the angels have lasted and both boys look forward to having their angel hanging on the tree. They get really excited about their angel, talk about it, what it means to them, how it looks after them and when it will go back on the tree. You see although I made these angels originally for Christmas,  they never get put away for the rest of the year, they are just too nice, I have been told.
The best thing about the angels, they have permanent places on display in their rooms, with them making  an appearance on the Christmas tree once it is up and ready.
Having created these and knowing that they will be here for many years to come, it is beautiful to think that what I have made are heirlooms in glass, that I have made something of real significance that the boys will keep for many years to come and I hope pass on to their children. Having created something bespoke this is a wonderful thought.
What do I mean bespoke?
Well anything that has been made specifically for you, perhaps something with your name on it, an item in a specific colour way just for you, a design that is only for you and created especially for you. These items are non-stock items, you can't buy them straight from my web shop.
Angels are bespoke when they are personalised with a name or are in a different colour way.
These are stunning heirlooms that have been created, personalised with a name, a date or a meaningful quote and will be kept for many years to come. They will also most likely be passed on to the next generation.
If you want to commemorate someone who is no longer with you this Christmas then this is a beautiful way of doing so. I have a also made an angel which includes the ashes of my Nan ensuring that she is alwys with us at Christmas too.
Or perhaps it's a special "First Christmas" a new born baby enjoying Christmas for the first time, a couple who have moved into their "first home" together, a couple just married and celebrating their first married life Christmas, the list goes on.
All these special occaisions are marked beautifully with a handmade glass tree decortion.
And the real beauty?
They are all  for life not just for Christmas.
There's no real reason why these beauties only get to come out once a year. So once they have finished on the Christmas tree, why not use them as a beautiful window hanging? As a  wall decoration? Or even use it near to a mirror so that everytime you look in it you are reminded of that special occasion or special person?
Why not start a collection so that every year you add a new one to create more meories and heirlooms in glass?
Also, it's not just angels that make beautiful decorations. Any number of shapes, animals, crosses, butterflies, bees etc are all ideal as individual and unique items to decorate your beautiful tree. If it means something to you or someone else then it is the perfect item for your tree.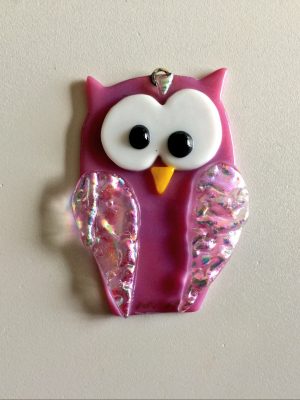 Owl Hanger
Those are just examples of what you could have as items for a tree.
What do you think about creating an heirloom in glass? Would you like to see one to commemorate your special occasion or a very special person?
Why not get in touch today and create your heirloom in glass.
Leave me a comment below, I'd love to know.