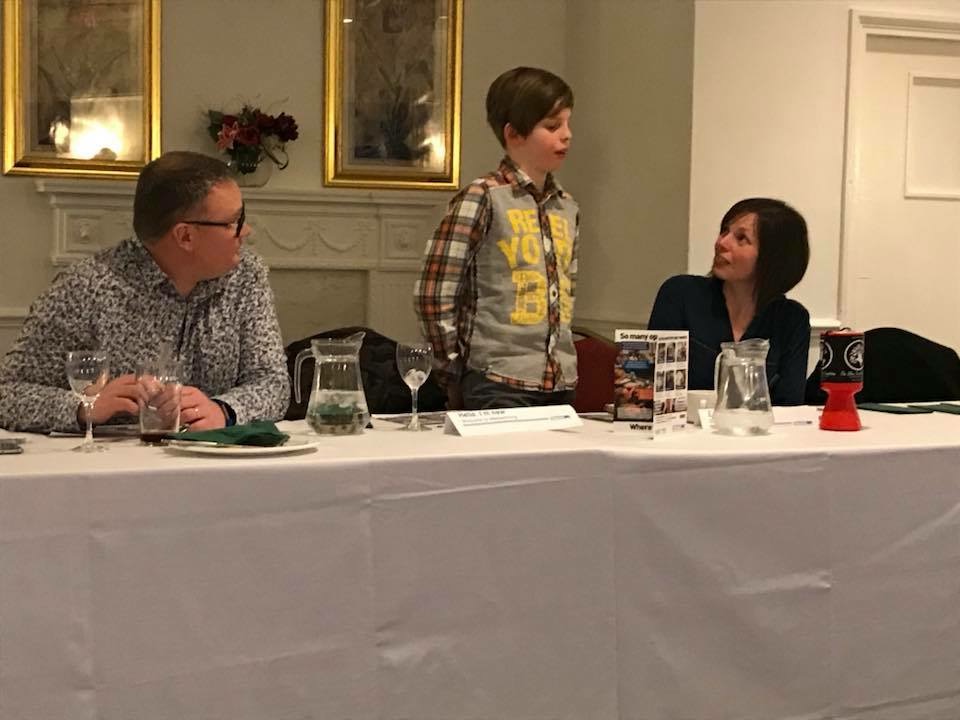 9 networking tips (from a 9 year old)
Tales from the She Shed
This week at the network meeting I run, there was a fabulous mix of people in the room all sharing their experiences and the ways in which they can help others.
There were social media experts, accountants, Dj's , holistic therapists, web designers, consultants, profit detectives, branded workwear designers , creative monkee's and a glass designer (that's me btw ).
But there was one person who really stood out for me, he stood up, wasn't embarrassed about what people would think , talked confidently about what he wanted to say and had the room hanging on whilst he was speaking.
Now call me biased but I was blown away because this person was my 9 year old son. Initially when we started he said he didn't want to speak, when his time came though, he lapped it up, even making jokes before he started.
He stood up and introduced himself and explained how he had been inspired to start a YouTube Channel, how he could help other people, and that he would like more followers.
Having spoken I was blown away by his confidence, his ability to be clear in what he wanted and not only that, that people came to him for a 1-2-1. (Dedicated talk time with the person of your choice in the room).
Now , that's not the end of it all, oh no, this clever young man in his 1-2-1 spoke honestly about everything he was doing and how he just "need to have courage in myself" and that that would lead him to do the things he wants to do.
At the end of the meeting he was asked by Ben Kelly if BK entertainment if he could help him with his YouTube Channel. "Sure", he said, "I'll do it now!"
Ben was bowled over with his get on and do it attitude, Alek set up a new channel, deleted his old channel and told him some interesting stats (all that at 9). Ben loved it and consequently paid him for his services!
When we were in the car on the way home Alek said, "Mom I've got this funny feeling, I think it's cuz I'm proud". Too flippin right you are dude and rightly so!!
I told him to hold onto that feeling and every time he wanted to feel inspired and push himself forward to remember that feeling, bring it back and that would help him.
When we got home I asked him what he had learnt and so here are the 9 top networking tips from a 9 year old.
1)Believe in your self.
Alek told me that you need to believe in yourself and what you are doing before you can stand up and talk. I guess it's the old adage,  if you don't believe in yourself who else will believe in you.
2) Have courage
At first Alek didn't want to stand up and speak but like he told me he realised that if he wanted to go further he needed to tell everyone what he wanted.
3) Think about what you are doing; in other words be prepared
4) Don't talk jibberish! (This made me giggle)
His words! Perfect and a lot of seasoned networkers could learn a lot from this, talking in a language that is only used within their industry. Make it so a 9 year old can understand and you are onto a winner!
5) Don't go off topic
Again another great tip here. So many people waffle on about what they do and don't stick to the point of why they are in the room and focus on what they want to achieve from the meeting. Alek was clear about what he was doing and who he wanted to help
.6) Have faith
Alek knows he isn't going to be a success over night on youtube but he has the faith that he will get there and doesn't listen to those who tell him he won't.
A top tip to ignore the Nay Sayers and do what you feel is best for you and your business.
7) Act quickly: Ben was keen to work with Alek and so instead of saying he would get back to Ben with a time he could help, he told him he could do the work right away; resulting in an impressed customer and cash in the pocket!
The idea here is where you can, take immediate action it will bring fast results.
that there were so many people in the room all with different opinions on how to run a business ,  it was important to respect those opinions and learn from them.
Seriously, he is only 9! I believe he will go a long way with this attitude.
8) Respect other's opinions.
I was really surprised by this comment from Alek and when I asked him why he had said that, he told me that there were so many people in the room all with different opinions on how to run a business ,  it was important to respect those opinions and learn from them.
Seriously, he is only 9! I believe he will go a long way with this attitude.
9) Finally, the fortune is in the follow up.
Now admittedly he didn't say that but what he did say was keep in touch. An absolute corker of a tip there. Alek followed up with Ben (well I did on his behalf) and he has already had a referral to someone else for help with their channel.
My tip to him would be to grab a testimonial quick and get it framed!
Hope you enjoyed this unusual tale and that it inspires some of you to think about how you network and how these tips could help you.
Alek I am super proud of your networking skills and mindset at 9!
So come on, let Alek know, what is your best networking tip? Leave a comment below.